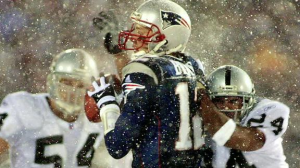 The NFL made two major rule changes on Wednesday that will affect games throughout the 2013 season and beyond. According to Jason La Canfora of CBS Sports, the rules committee will end the "tuck rule" and prevent running backs from leading with their helmets:
'Incomplete pass'
"NFL passes the measures on the tuck rule and the rule change regarding penalties for ball carriers striking with their helmets."
In other words, a fumble is really an incomplete pass if a quarterback intends to bring the ball back to his chest. This rule became famous in a 2001-02 playoff game between the Oakland Raiders and New England Patriots. Late in the game, Tom Brady dropped back to throw the ball, but Charles Woodson of the Raiders knocked it loose.
'To better protect themselves'
After review, it was apparent that Brady was bringing the ball down. The Patriots were able to keep it in a crucial situation and eventually won the game. They went on to win the Super Bowl that season. From now on, quarterbacks will have to be in a throwing motion for the pass to be ruled incomplete.
The other rule change by the competition committee is a bit more controversial. It states that running backs will no longer be allowed to hit defenders with the crown of their helmet, essentially using it as a weapon to break tackles.
Some NFL running backs are already voicing their displeasure with the latest changes. Still, this new rule is a way for defenders to better protect themselves after many league changes went against them over the past few years in regard to safety.
What are your view regarding the two latest changes in the NFL rules? Yay or nay?
Source: Rob Goldbert, Bleacher Report
Image: ESPN