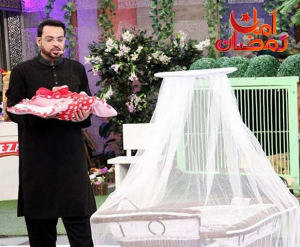 Plumbing new depths in the battle for television ratings, abandoned babies are being given away on a controversial prime-time game show in Pakistan.
'Giveaway bonanza'
TV host Aamir Liaquat Hussain presented baby girls to two unsuspecting couples during his show, which is broadcast live for seven hours a day during the month of Ramadan. Another baby, a boy, is due to be given to another couple at some point in the coming days.
The show's host has been described as a religious scholar, TV megastar and even a sex symbol. His heady mix of religion and entertainment is often followed by controversy. His show — Aman Ramazan — has been dubbed Pakistan's version of The Price Is Right, with members of the 500-strong audience receiving prizes in exchange for answering questions on the Quran. The giveaway bonanza includes motorbikes, microwave ovens, washing machines and fridges.
'Unifying a fractured nation'
The baby girls given away on the show were found by an NGO, the Chhipa Welfare Association, which says it receives up to 15 abandoned babies a month. Adoption is not officially recognized in Pakistan and there is no adoption law. The couple will have to apply for guardianship at a family court. Some viewers praised the show's baby giveaway but others declared it a publicity stunt.
Hussain says it isn't a gimmick to win ratings during the Islamic holy month. He believes his show is unifying a fractured nation, plagued by sectarian violence, religious intolerance and terrorism.
"These are the disenfranchised babies that grow up to be street kids and used for suicide bombing attacks. We have tried to show an alternative," he said. "Telling people to take these kids off the rubbish on the streets, raise them and make them a responsible citizen, not to destroy society through terrorism," he said.
What do you think of Aamir Liaquat Hussain's show? Do you approve of it or not?
Source: Saima Mohsin and Katie Hunt | CNN
Image: The Sun