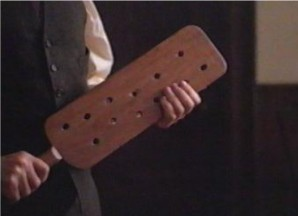 Rather than spend two days in in-school suspension for allegedly letting another student copy her classwork, Taylor Santos, a well-regarded student and athlete at Springtown High School, near Fort Worth, Texas, chose to get paddled.
As her mother, Anna Jorgensen, told ABC News affiliate WFAA-TV in Dallas, Taylor didn't want to miss any classes because "her grades are very important to her." So Santos went to the vice principal's office to request a paddling. She called her mom, who said that as long as her daughter was OK with it, so was she. According to school policy, parents who don't want their children to subject to corporal punishment must submit a written statement each year.
What neither Jorgenson nor Santos knew was that a man – the vice principal – would be doing the swatting, while a female watched. As far as Jorgensen knew, she said, school policy mandated that males spanked males and females spanked females. Because of the force with with Santos was struck, her bottom was fire-engine red and looked as if it had been "burned and blistered," said Jorgensen, who took photos as evidence.
While paddling in public schools has been outlawed by 31 states, as well as by Washington, D.C., and Puerto Rico, the Supreme Court ruled in 1977 that it was legal unless it has abolished by local authorities, according to the web site Corpun.com.
The day after her daughter's paddling, Jorgensen called the vice principal to complain, but was told it was "normal for her bottom to look like this after receiving swats." The vice principal added that he had no idea about the same gender swatting, Jorgensen said.
Should paddling in public schools be abolished? What can you say about the same gender swatting? Tell us about your real-life stories about paddling in school!
Image: Juvenile Justice