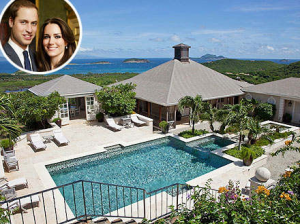 While Kate Middleton and her family enjoy a luxurious vacation holed up in a $23,000 per week vacation rental mansion on the Caribbean island of Mustique, the rest of the island is on near lockdown, upsetting tourists and locals.
Tourists have reportedly been banned from using the rented "mules," or golf carts, normally used to zip around the island, and are being quizzed by security before being allowed to access the beach and other island hot spots.
The Middleton family, owners of a party-planning business, are frequent visitors to the island and reportedly have looked into purchasing a vacation home there.  Kate and her husband, Prince William, traveled there in 2006 for a luxury getaway while they were still dating.
But now the security and strict regulations that follow the Duchess of Cambridge, as Kate became known when she and Prince William tied the knot last April, no matter where she travels are creating a stir, even in an island known for hosting A-listers like Jennifer Lopez and Mick Jagger.
A source told the paper the Mustique Company is covering the costs of the extra security, said to be put in place after discussions with Kate's bodyguards. The security can be expected to increase even more in the week ahead when Prince Williams joins the family for vacation.
Source: Yahoo! News
Image: People