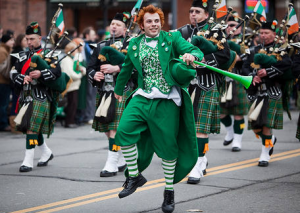 CNN asked a handful of Irish poets, novelists and playwrights about the spots that inspire them in their mother country. Here are a few of our writers' favorite places.
Although she was born and raised in County Monaghan, Mary O'Donnell's poetry and prose is inspired by the rough and wild landscape of the Burren, a region in County Clare where Ireland's ancient people managed to survive for centuries. O'Donnell is also fascinated by megalithic tombs, which is why she wrote a poem about Burren's Poulnabrone Dolmen, one of Ireland's most famous ancient monuments. Built more than 5000 years ago, the Neolithic/Bronze Age tomb housed remains and burial items such as pottery, jewelry and an ax.
Although he now lives in England, poet John McAuliffe often returns to his childhood home in Listowel to visit family and to recharge his writing. On the surface a typical North Kerry market town, Listowel has a literary tradition inspired by the playwright John B. Keane and fiction writer Bryan MacMahon. Keane ran a pub where writer Michael Hartnett and other writers and townspeople would gather, now operated by his widow and son.
Novelist and playwright Belinda McKeon grew up on a farm in County Longford, a region that barely merits a mention in some of Ireland's tour books. Yet amidst the ordinary midland landscape dotted with nondescript schools, restaurants and gas stations is a literary tourist's dream.
Source: CNN
Image: Don Milleris
Vacation at the best private beachfront East Bali Villa – Villa Pantai Bali.