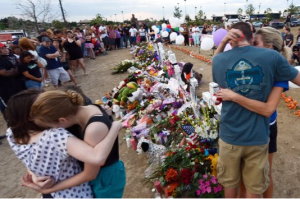 Of the 12 people killed in the Aurora theater shooting, four of them were men who made the ultimate sacrifice to protect their girlfriends. Now, each of these women are struggling to come to terms with both their grief and their gratitude.
Alexander Teves, 24, attended the midnight screening of "The Dark Knight Rises" with his girlfriend Amanda Lindgren , 24,and another friend. When suspected gunman James Holmes opened fire in the sold out theater, Teves immediately lunged to block Lindgren from the gunfire. Teves blocked the bullets from Lindgren but he was shot and killed. She was not hit. Lindgren reflected on the profoundly close relationship she had with Teves, saying that the couple would not go an hour in the day "without missing each other terribly."
Elsewhere in theater nine, John Larimer and his girlfriend Julia Vojtsek went through a similar situation. U.S. Navy Petty Officer 3rd Class John Larimer, 26, and his girlfriend Julia Vojtsek, 23, were sitting int the middle of the theater when the shooting began.
"John immediately and instinctively covered me and brought me to the ground in order to protect me from any danger," Vojtsek wrote in a statement. "Moments later, John knowingly shielded me from a spray of gunshots. It was then I believe John was hit with a bullet that would have very possibly struck me. I feel very strongly that I was saved by John and his ultimate kindness."
In addition to these two couples, Matthew McQuinn, 27, and Jon Blunk, 26, died saving their girlfriends in similar ways. Their girlfriends Samantha Yowler, 26, and Jansen Young, 21, did not respond to requests for comment.
Have you ever been through a similar situation or do you know of someone who has? How can these women cope with the sudden loss of their partners who died protecting them?
Image: ABC News Radio