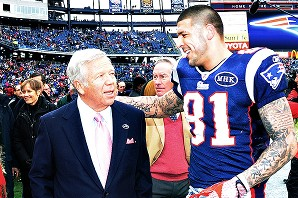 New England Patriots owner Robert Kraft has broken his silence on former tight end Aaron Hernandez, saying that he and the organization were "duped" if the allegations surrounding Hernandez's role in the murder of Odin Lloyd are true.
'Unthinkable act'
Kraft, reportedly speaking against the advice of a general counsel, had this to say about the decisions his franchise has made since the accusations first came to light:
Following Aaron's arrest, I read a number of different accounts of how things transpired in our organization. Let me be clear: We decided the week prior to Aaron's arrest that if Aaron was arrested in connection with the Lloyd murder case that we would cut him immediately after.

The rationale behind that decision was that if any member of the New England Patriots organization is close enough to a murder investigation to actually get arrested—whether it be for obstruction of justice or the crime itself, it is too close to an unthinkable act for that person to be part of this organization going forward.
'Double life'
New England followed through on that preconceived plan by releasing Hernandez at the time of his arrest, per the team's official website. According to Kraft (via Reiss), the Patriots had no idea Hernandez was allegedly living a double life outside of his time with the team. As Kraft said in the interview, "He knew how to push my buttons."
The latest surrounding Hernandez's criminal trial came from Kevin Manahan of USA Today, who reported on Monday that the district attorney in charge of the case has yet to officially name Hernandez as the accused shooter in Lloyd's murder.
Do you think Aaron Hernandez is really guilty of the charges against him? Feel free to share your speculations with us!
Source: Ethan Grant | Bleacher Report
Image: Ex-Pats