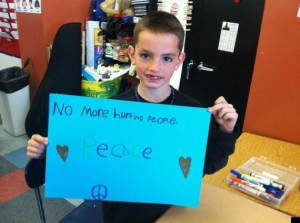 Almost a year ago, 8-year-old Martin Richard wrote four simple words on a sign at school. "No more hurting people," it said. For the camera, he held up the bright blue sign decorated with hearts framing the word "Peace." It's a photograph that many find difficult to look at Tuesday as they struggle to comprehend the violence that took Martin's life.
'Killed'
On Monday, the boy and his family were watching the Boston Marathon near the finish line when two bombs exploded just off Copley Square in the heart of the city. The grade-schooler was killed, authorities said. Martin's mother, Denise, and his sister were grievously injured, The Boston Globe reported.
Also killed in Monday's attack was Krystle Campbell, who graduated from Medford High School in Massachusetts in 2001. There were no immediate details about the third victim killed in the bombings. Of the more than 170 people who were treated at hospitals, at least 17 were in critical condition and 41 in serious condition, according to hospital officials.
'Nothing is being dismissed'
Martin made his "peace" sign in May when his school organized a "Peace Walk." Holding their homemade signs, kids walked around the city making a big statement with a simple act. In bubble letters, one of his classmates wrote, "No more violence!"
While so much grieving continues, more details are emerging about Monday's bombings. No suspects have been identified in the case, which federal authorities are classifying as an act of terrorism. It was not immediately known whether the origin of the bombings was domestic or foreign.
The intelligence community is poring through all threat reporting for any clues, U.S. counterterrorism officials told CNN. That includes any claims made on jihadist websites. Nothing is being dismissed this early on, the officials said.
What do you think was the motive behind the Boston Marathon explosion? And do you think the authorities will be able to catch those responsible for this?
Source: Ashley Fantz, CNN
Image: The Huffington Post