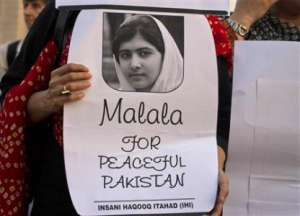 A Pakistani schoolgirl fighting for her life after being shot by Taliban gunmen was transferred on Thursday from a hospital in a province that is a militant haven to a specialist hospital in the army garrison town of Rawalpindi.
Malala Yousufzai, 14, was unconscious in critical condition after being shot in the head and neck as she left school on Tuesday, but doctors said she had moved her arms and legs slightly the night before.  Pakistani surgeons removed a bullet on Wednesday from Yousufzai who was shot by the Taliban for speaking out against the militants and promoting education for girls.
'Shot for Spreading Western Culture'
Yousufzai began standing up to the Pakistani Taliban when she was just 11, when the government had effectively ceded control of the Swat Valley where she lives to the militants. She was shot with two other girls on Tuesday as she left school in Swat, northwest of Islamabad. One of the girls is out of danger and the other remains in critical condition.
A Taliban spokesman said she was targeted for trying to spread Western culture and that they would try to kill her again if she survived. Authorities had identified her attackers, said regional governor Masood Kausar. The local government has posted a 10 million rupee reward for their capture.
'Impromptu Rallies'
The attack outraged many in Pakistan, with small, impromptu rallies held in her support in many cities. Schools had also closed across Swat in protest over the shooting and a small demonstration was held in her hometown of Mingora. Pakistan's president, prime minister, and heads of various opposition parties joined human rights group Amnesty International and the United Nations in condemning the attack.
In light of the recent threats to her life, should Malala Yousufzai accept the previously offered government protection after she is discharged from the hospital? Feel free to speak out about violent activities of the Taliban!
Image: Reuters