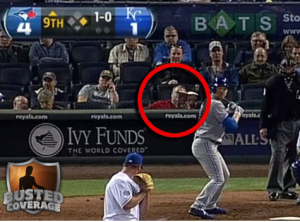 It's been fascinating to watch the many ways that people in Kansas City are dealing with the Royals losing their first 10 games at home, a domestic debut that our pal Sam Mellinger says hasn't been seen in baseball since 1913.
"Royals Book Guy," (pictured above) created one of the world's most expensive library seats (a $240 Crown Club ticket) by cracking open a novel during Monday night's loss to the Toronto Blue Jays. (The screencap of him engrossed in a presumably better fantasy world zoomed around the Internet and earned him the ultimate sign of Internet traction — a parody Twitter account.)
The Royals headed out on a three-city, nine-game road trip on Tuesday night, but any thoughts of it being a renewing experience were doused with a 4-3 loss at Cleveland. The defeat ran their losing streak to 12 games. As Joe Posnanski notes, five of the 20 12-game losing streaks since the strike have sadly belonged to the Royals.
Fans might be well advised to bring a stack of magazines that need catching up on — that's because a pair of series against the Yankees and Red Sox will be waiting when the Royals finally return home.
Would you even think about reading a novel on site if your favorite team had a losing streak? Share with us your ways of coping with a bad game!
Source: Yahoo News
Image: Busted Coverage