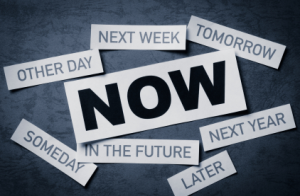 For Hamlet, the student prince, procrastination is just a curse that befalls students. For many, it rings true because for them, school libraries are just for spacing out, ogling sexy schoolmates, downloading from iTunes, and organizing tonight's booze party. If Hamlet were alive today, his procrastination woes would have been worse than it was, because he'd spend more time speculating and voicing out his anxieties over Facebook and Twitter.
Professor Piers Steel from Haskayne School of Business at the University of Calgary, and the author of The Procrastination Equation, has done an extensive research on this issue. He found out that 95% of the population procrastinate every now and then. Professor Joseph Ferrari of DePaul University Chicago, writer of Still Procrastinating? The No Regrets Guide to Getting It Done, has found that a fifth of the world population can be classified as chronic procrastinators. They complicate — and probably shorten — their lives with unnecessary delay and avoidance of various tasks. Simply looking at these figures gives me the chills.
It is common knowledge that those who procrastinate constantly end up being less wealthy, less healthy, and less happy than those who take action immediately. To make matters worse, our justifications are also untrue. We often say we work best under pressure so we wait for the last possible minute to consummate a task. What a whopper! Time and again, it has been proven that last minute jobs have more mistakes than those done in advance and finished on time. In addition, this behaviour is annoying and inconvenient for others and usually puts us in shameful situations.
People who are in the habit of putting off important decisions are in danger of becoming extinct at work. Extinct, in the sense that their behaviour angers bosses and colleagues, causes floodgates of tears to burst open, and predispose a person to unemployment. In the end, we loathe ourselves when the effects of procrastination catch up with us.
For Piers Steel, human is designed by nature to procrastinate, but he offers a few ways to avoid the pitfalls of this behaviour. First — you can divide the task into small parts and work through them one by one. The other is quite a quick problem solver — offer 50 bucks to a friend and tell him or her that if you don't finish the task you have started, they can donate it to a political party or endure your hatred. Which one would you prefer?
To procrastinate, or not to procrastinate? Well, it is better to tell Hamlet off and end your procrastinating days once and for all. Unless, of course, you choose to end your procrastination tomorrow, next week, next month, or next year.
Source: BBC News
Image: Get Organized