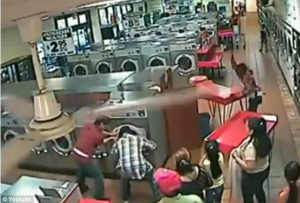 In this silent footage from the laundromat's security camera, the dad scoops up the diaper-clad toddler, shoves him head first into the front-loading washer, and shuts the door. He and the mom seem amused at first, but panic quickly sets in when they realize that they can't get the washer door open. It's locked automatically, and the tot is trapped inside as the washer starts to run.
Click on the link above to see the footage. (Warning:The video is disturbing).
The toddler tumbles helplessly, trapped in the machine, water pouring in, while the parents struggle with the locked door and then search for help. Finally, an attendant runs over and disables the machine. It takes a few more seconds to get the door open and the child out.
There have been several recent reports about kids dying after getting trapped in a washing machine — in March, 18-month-old Ollie Hebb drowned in a washing machine accident, and a 3-year-old was killed in France after his father put him in one and turned it on to punish him. The child in this video suffered a few bumps and bruises and is fine, according to the person who posted the clip — at least, as fine as one can be living with parents who think it's funny to stick kids in washing machines. No word on whether the parents will be investigated for, well, anything.
Should the parents be punished for what they have done to their kid? Share your thoughts with us!
Source: Yahoo News
Image: Gist Express