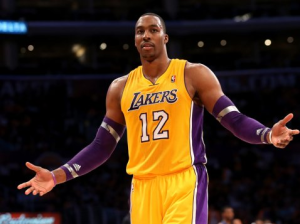 According to Chris Broussard of ESPN, sources are reporting that Dwight Howard is unlikely to re-sign with the Los Angeles Lakers. He is also reporting that the Houston Rockets and Dallas Mavericks are the front-runners to acquire his services. Broussard later added that the Golden State Warriors will try and enter the Howard sweepstakes when free agency opens.
'Wild card'
While Howard has always been a bit of a wild card, this report may come as a surprise to many. Howard's first season in L.A. didn't go according to plan, as the Lakers barely snuck into the playoffs as the No. 7 seed before being swept by the San Antonio Spurs in the first round.
'Willing to play elsewhere'
Howard essentially forced his way out of Orlando last offseason when he refused to commit to re-signing with the Magic. Rather than losing him for nothing in free agency, the Magic orchestrated a four-team deal involving the Lakers, Philadelphia 76ers and Denver Nuggets that ultimately sent Howard to Los Angeles. Although Howard's numbers were down a bit—17.1 points, 12.4 rebounds, 2.4 blocks per game—he's still the NBA's top center when healthy.
According to Broussard, the Lakers can offer Howard $30 million more than any other team. Apparently it isn't all about the money, though, as Howard reportedly doesn't believe that he is a good fit in Mike D'Antoni's system. Because of that, Howard may be willing to play elsewhere at a relative discount.
Do you think Dwight Howard will still re-sign with the Lakers? If not, which team will he choose?
Source: Mike Chiari | Bleacher Report
Image: Business Insider