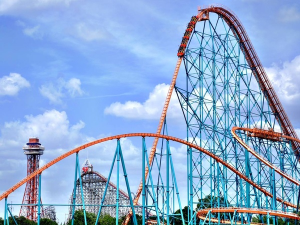 An initial investigation shows no sign of foul play in the death of a woman who fell from a roller coaster at Six Flags Over Texas, authorities said Saturday.
'Not properly secured'
Six Flags confirmed that a woman died Friday while riding the Texas Giant roller coaster, but did not provide further details.
Carmen Brown told the Dallas Morning News that the woman had expressed concern to a park employee that she was not properly secured in her seat.
"He was basically nonchalant," Brown said. "He was, like, 'As long as you heard it click, you're fine.' Hers was the only one that went down once, and she didn't feel safe. But they let her still get on the ride."
'Exactly what happened'
Six Flags Over Texas spokeswoman Sharon Parker said the park is committed to determining exactly what happened.
The Texas Giant was originally designed in 1990 as an all wooden roller coaster. It was redesigned with a steel track and reopened in April 2011 to mark the theme park's 50th anniversary. At its highest point, the roller coaster is 153 feet and has a drop of 147 feet, according to the theme park.
What do you think caused that woman to fall from her seat in the roller coaster? Should Six Flags Over Texas be held responsible for her death?
Source: Kevin Conlon and AnneClaire Stapleton | CNN
Image: Culture Map Dallas