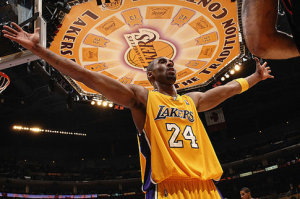 In that meeting in the fall of 2007, near the start of training camp, Jerry Buss presented Kobe Bryant with a scenario of Bryant's own request: a trade out of Los Angeles, out of the franchise that drafted and groomed him and taught him to be a champion.
'True for all of them'
Even now, Kobe Bryant still thinks about that time in his life when he was too impatient, when he failed to give Buss' own history and greatness its proper due. Whatever the owner had told him that night about a trade – Detroit or Chicago, Dallas or wherever – it probably wouldn't have mattered.
For all Bryant's impatience, there was still such an immense part of him that was comforted in the company of the Los Angeles Lakers' patriarch. True for Bryant, true for all of them.
'Lakers for life and beyond'
No one walks away from the Lakers, from Buss, and does so without a deep, lingering regret. These were the Showtime Lakers, and they would be again with Bryant and Pau Gasol and Andrew Bynum. In his 17th season, Bryant's belief that he'll never wear another uniform is unwavering.
The late Jerry Buss gave Bryant the gift of Jerry West trading for him on draft day in '96, of Shaquille O'Neal and Phil Jackson, of five NBA championships that perhaps wouldn't have been available anywhere else.
All these years later, Kobe Bryant is blessed to know that he never walked out on Dr. Buss, that he'll share something with the late, great owner forever: Lakers for life – and beyond.
Do you think Kobe Bryant still could have achieved the same set of achievements if he agreed to other NBA trades? Who is your favorite NBA player of all time?
Source: Adrian, Wojnarowski, Yahoo Sports
Image: Elite Daily