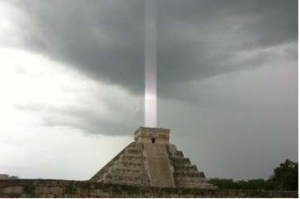 When Hector Siliezar visited the ancient Mayan city of Chichen Itza with his wife and kids in 2009, he snapped three iPhone photos of El Castillo, a pyramid that once served as a sacred temple to the Mayan god Kukulkan. A thunderstorm was brewing near the temple, and Siliezar was trying to capture lightning crackling dramatically over the ruins.
In the first two images, dark clouds loom above the pyramid, but nothing is amiss. However, in the third photo, a powerful beam of light appears to shoot up from the pyramid toward the heavens, and a thunderbolt flashes in the background.
The photo has surfaced on several Mayan doomsday discussion forums. But was the light beam a sign from the gods — a warning about Dec. 21, 2012, the date that marks the end of the Mayan calendar cycle, and when some people fear the world will end? Or is it simply the result of an iPhone glitch?
According to Jonathon Hill, a research technician and mission planner at the Mars Space Flight Facility at Arizona State University, which operates many of the cameras used during NASA's Mars missions, it is almost definitely the latter. He says the "light beam" in the Mayan temple photo is a classic case of such an artifact — a distortion in an image that arises from the way cameras bounce around incoming light.
It's more likely that the "light beam" corresponds to a set of columns of pixels in the camera sensor that are electronically connected to each other, but not to other columns in the sensor, and that this set of connected pixels became oversaturated in the manner described above.
Source: Yahoo News
Image: Live Science