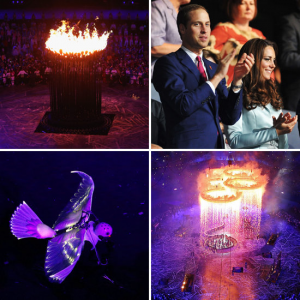 Seven promising young British athletes lit the Olympic cauldron early Saturday, capping the Games' festive opening ceremony in east London.
The torch, which arrived on a boat driven by football star David Beckham down the River Thames, had been carried into the stadium by five-time Olympic gold medalist Steve Redgrave. The retired rower then passed it to the young athletes, who lit part of the outer rim of the torch, setting off a domino effect as fire spread to 205 small metal "petals," symbolizing the nations taking part. The small petals eventually rose on long stems and converged to become a cauldron pointing up to the sky above the stadium.
A short time earlier, Queen Elizabeth II formally pronounced the Olympics open for business, saying, "I declare open the Games of London, celebrating the 30th Olympiad of the modern era."
After a short film featuring Daniel Craig, the latest actor to play cinematic British spy James Bond, and none other than Queen Elizabeth II herself, the next performance paid tribute to Britain's National Health Service and children's literature. J.K. Rowling, author of the best-selling Harry Potter books, kicked off the scene — which featured, among others, the evil Voldemort from her series and magical nanny Mary Poppins.
Next came a performance of the iconic song from "Chariots of Fire," a tale about two British Olympians from 1924 that was lightened up by slapstick comedian Mr. Bean, played by Rowan Atkinson. Then came a showcase for pop songs from the Beatles to the Rolling Stones to Frankie Goes to Hollywood to David Bowie, which was followed by a short live performance by rapper Dizzee Rascal.
Just over one hour in, the Olympic athletes finally made their way into the stadium led, per tradition, by the Greek delegation. That was followed by another performance featuring bicyclists with glowing butterfly wings going around the stadium, one of whom soared into the air. International Olympic Committee chief Jacques Rogge noted the history being made with these Games — the first competition in which every delegation had female athletes and the first time any city has hosted the Olympics three times.
Were you able to watch the opening ceremony of the London Olympics as it happened? Tell us about the most spectacular scene for you!
Source: CNN
Image: Tres Sugar