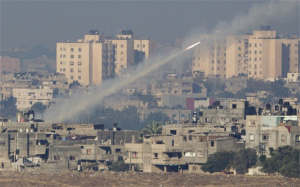 The recent outbreak of violence between Israel and Gaza seems to have no end. Both of these sides know that full well, but they are so blinded with political issues that they still continue with their incessant warring, with both sides crying foul over the other.
'Nothing to gain'
According to most experts, the violence will eventually cease albeit without any change to the present situation. The only change perhaps will be the number of victims unwillingly dragged into the whole mess. Each side has nothing to gain, yet continues to suspect the other of political mischief. On the side of the Palestinians, they are afraid that Israel is starting the war to prepare for the upcoming elections. Israel, on the other hand, suspect that Hamas (Islamic Resistance Movement) is throwing around rockets to make an impression that they are not to be ignored.
Actually, there is a grain of truth to these suspicions, but each side just wants to plant fear in the other. Israel knows it cannot force Hamas from Gaza just like that, but just wants to show them what will happen if they start another round of violence in the future. Hamas knows it cannot inflict significant damage upon Israel, but just hopes to cause enough ruckus and panic to tell the world that Gaza simply cannot be ignored.
'Political damage'
In the end, this back-and-forth violence is bound to stop, with Gaza having a higher death toll because Israel is much stronger. In addition to that, political damage is bound to be a by-product of this. The United States will be known as being on Israel's side, while Egypt as a powerless ally torn between its sympathy for Hamas and its peace treaty with Israel.
We can all blame international powers including the U.S. and Egypt for the steps that they took in this chaos. But we can also put the blame on their inaction a long time ago. They cannot anymore pretend that the hostility between Israelis and Palestinians could be easily resolved, and that Hamas and Gaza can be easily tolerated, just like they did before. If they seriously work together, Egypt and the U.S. can possibly elicit a ceasefire. However, the aftermath is another issue to be dealt with. What should be done after the ceasefire? And that, is the real challenge in this already challenging situation.
What do you think will it take to create a lasting peaceful result between Israel and Gaza? Feel free to share your thoughts on this recent issue!
Image: The Telegraph