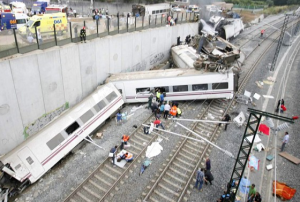 A train has derailed in north-western Spain, killing at least 77 people and injuring more than 100, officials in the Galicia region have said. All eight carriages of the train, which was travelling from Madrid to Ferrol, came off the tracks near the city of Santiago de Compostela. Analysts say it is the worst rail accident in Spain in four decades.
'Accident'
Rescue workers have so far recovered 73 bodies from the accident site, while four more people died in hospital, a spokeswoman for Galicia's supreme court said on Thursday. Judges are responsible for registering deaths in Spain. Government officials said they believed the crash was an accident, but that no statement would be made regarding the cause without a proper investigation.
One witness, Ricardo Montesco, described how the train carriages "piled on top of one another" after the train hit a curve, speaking to Spanish Cadena Ser radio station. Spanish El Pais newspaper cited sources close to the investigation as saying the train was travelling at over twice the speed limit on a sharp curve.
'Cancelled'
The derailment happened on the eve of Santiago de Compostela's main festival where thousands of Christian pilgrims were expected to flock to the city in honour of Saint James. However, the city's tourism board said all festivities planned for Thursday have been cancelled.
Railway firm Renfe said the train was carrying at least 218 passengers, and came off the tracks on a bend about 3km (two miles) from Santiago de Compostela station. It was on the express route between Madrid and the ship-building city of Ferrol on the Galician coast.
What do you think caused the Spanish train's derailment? Feel free to share your speculations with us!
Source: BBC News
Image: The Telegraph