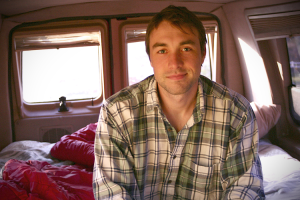 By the time Ken Ilgunas was wrapping up his last year of undergraduate studies at the University of Buffalo in 2005, he had no idea what kind of debt hole he'd dug himself into.
'Paying back every dime'
He had majored in the least marketable fields of study possible — English and History — and had zero job prospects after getting turned down for no fewer than 25 paid internships.
He moved to Alaska and spent two years paying back every dime. Two and a half years after hitting the road, he made his final loan payment. With interest, he'd paid down $35,000. But he wasn't ready to quit on his education just yet. He was determined to find a liberal arts program affordable enough to pay his way as he went. He settled on Duke, which charged about $2,500/semester.
'Completely debt free'
When he found an ad for a $1,500 1994 Ford Econoline on Craigslist, he knew he was home. Luckily, he'd been assigned to a rarely-trafficked parking lot off campus. He could come and go as he pleased and no one noticed. The first few weeks were rough. Eventually, he got to work turning his van into a proper home. There was just one rule about his new lifestyle: Nobody could know about it.
He looked for odd jobs whenever possible, including working part-time tutoring kids at a local elementary school for extra cash. By his final semester, Ken had nearly made it. But he had just over $300 left to his name and still needed enough to last him a few months. So he turned himself into a lab rat for hire, volunteering in at least two dozen medical studies that paid $10 to $20 an hour for him to undergo cognitive tests, take experimental pills, and have his brains scanned in MRI machines. But it all paid off. He graduated in May 2011 — completely debt free.
Do you think you can pull off the feat that Ken Ilgunas did just to pay off his student debt? Feel free to share your insights with us!
Source: Mandi Woodruff | Business Insider, Yahoo Finance
Image: Salon