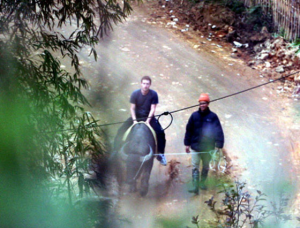 Mark Zuckerberg may be welcome in Vietnam, even if his brainchild Facebook is not. The Facebook founder is vacationing in the communist country that blocks its citizen from using his social networking site.
According to The Associated Press, Zuckerberg, his longtime girlfriend Priscilla Chan and a group of friends arrived in Vietnam Dec. 22. They spent Christmas Eve in popular tourist spot Ha Long Bay and Christmas Day at an ecolodge in the northern mountain town of Sapa, where Zuckerberg rode a buffalo.
The pair have been dating since Zuckerberg's sophomore year at Harvard, where they met at a Friday night party for Jewish fraternity Alpha Epsilon Pi. Chan, a Chinese-American from the Boston suburbs. struck up a conversation with Zuckerberg while waiting in line for the bathroom.
While the couple seem to be enjoying their vacation, it's likely, given Zuckerberg's insatiable work ethic, that he's finding some time for business, namely expanding Facebook to Vietnam, where social media is growing. Though Facebook is blocked by the government's censors, locals can still access the site with relative ease, but it seems they would rather choose local offering Zing Me.
Zuckerberg, whose net worth is measured in the billions, doesn't need the money. Rather he seems motivated by his obsession to bring Facebook to one billion users worldwide.
Source: Yahoo! News
Image: Pursuitist.com