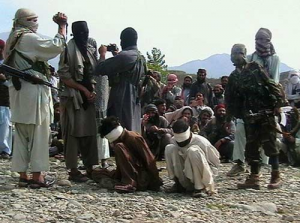 Insurgents beheaded 17 civilians in a Taliban-controlled area of southern Afghanistan, apparently because they attended a dance party that flouted the extreme brand of Islam embraced by the militants, officials said Monday.
The victims were part of a large group that had gathered late Sunday in Helmand province's Musa Qala district for a celebration involving music and dancing, said district government chief Neyamatullah Khan. He said the Taliban slaughtered them to show their disapproval of the event. All of the bodies were decapitated but it was not clear if they had been shot first, said provincial government spokesman Daoud Ahmadi.
Many Afghans and international observers have expressed worries that the Taliban's brutal interpretation of Islamic justice will return as international forces withdraw. Under the Taliban, who ruled the country from 1996 to 2001, all music and film was banned as un-Islamic, and women were barred from leaving their homes without a male family member as an escort. Helmand is one of the areas seeing the largest reduction in U.S. troops, as the force increase ordered up by President Barack Obama departs.
One of the most worrying trends to accompany the drawdown has been a surge in attacks by Afghan forces against their international allies, and another shooting came on Monday morning, though it appeared to be accidental.
Two American soldiers were shot and killed by one of their Afghan colleagues in the east, military officials said, bringing to 12 the number of international troops — all Americans — to die at the hands of their local allies this month. But Afghan officials said Monday's attack in Laghman province was a separate case from the rash of recent insider attacks on international forces, because it appeared to have been unintentional.
Do you think Afghanistan will once again fall under the rule of the Taliban? What should be done to prevent ruthless killings from happening again in Taliban? Speak out and express your views regarding this issue!
Imgae: Mid Day