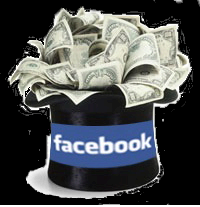 We all knew he'd eventually get around to it: Mark Zuckerberg is expected to finally bring Facebook public. The company is reported to be preparing to file for an IPO — initial public offering — through which anyone will be able to buy shares of the social networking company on an open stock exchange.
In reality, however, I don't think we are witnessing Facebook's victory over the financial markets as much as its acquiescence to them. Yes, Apple challenged Microsoft for software supremacy, just as Facebook now challenges Google for Internet supremacy. But there's another operating system churning away beneath all this high tech activity, and it's called corporate capitalism. If a company is big enough — and that means simply holding enough money — then sooner or later that money influences the rest of the company's activities.
In Facebook's case, it meant approaching the legal limit of 500 investors, which triggers a requirement to open the books to regulatory scrutiny. It also meant dealing with a few thousand coveted employees who took jobs at Facebook instead of Google or Apple or anywhere else because they were hoping to get in on a big thing.
The more money a company takes in, the more obligated it becomes to function in accordance with the properties and rules of money. It's a real corporation, now, and has to behave like one. By all accounts, Zuckerberg was trying to delay this eventuality as long as possible. However much we may not like his vision for our future, his primary purpose was to change the world.
Instead of revolutionizing our reality, by filing an IPO Mark Zuckerberg is finally getting with the program.
Source: CNN
Image: iBug