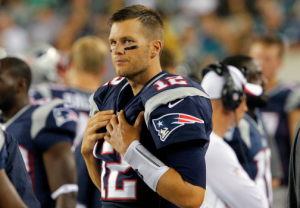 A potential knee injury to Tom Brady in a practice with the Tampa Bay Buccaneers is threatening to at least temporarily disband the New England Patriots' winning combination as of Wednesday, according to Stephen Holder of The Tampa Bay Times.
'Panic button'
Apparently, Brady was able to walk off the field on his own, as noted by Zuri Berry of Boston.com. Patriots nation has to be holding its collective breath in anticipation of Brady's condition, but it does appear that the panic button shouldn't be hit just yet, especially since he walked off the field under his own power. Having said that, if Brady is in any way significantly hurt, New England will be hard-pressed to maintain its stranglehold on the AFC East division and status as perpetual championship contenders.
The offense is already without magnificent wide receiver Wes Welker, who left for the Denver Broncos in free agency.  Tight end Rob Gronkowski, meanwhile, is also not a sure thing to play when the regular season begins, since he is rehabbing from back surgery. To say the least, the Patriots are shorthanded offensively and desperately need Brady to orchestrate the high-octane attack.
'Some concern'
Backup QB Ryan Mallett left Friday's preseason game with a head injury, but did return to practice this week. Although he has tall pocket presence and a strong arm, he would clearly be a downgrade from Brady. Tim Tebow is the only other quarterback currently listed on the Patriots' QB depth chart.
The 36-year-old Brady missed almost all of the 2008 season with a torn ACL and MCL in the same knee, so this has to at least cause some concern.
Do you think Tom Brady will still be able to lead his team to a chance at competing for a Super Bowl? Which team will you be rooting for?
Source: Matt Fitzgerald | Bleacher Report
Image: Sports Illustrated