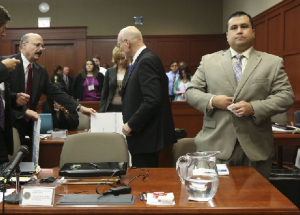 Prosecutors in the George Zimmerman second degree murder trial have pushed hard on two points as they seek to make their case against him: that the injuries to Zimmerman on the night Trayvon Martin died were "insignificant" and that he had studied Florida's "Stand Your Ground" law in a college class in 2010.
'Depraved mind'
To win conviction on second-degree murder, the prosecution has to show that the death was caused by a criminal act "demonstrating a depraved mind without regard for human life."
Much was also made of the class Zimmerman took class at Seminole State College taught by Professor Alexis Carter.  The key supposedly was that Zimmerman really did understand Florida's "Stand Your Ground" law.  Prosecutor Richard Mantei told the court that Zimmerman's legal studies would help jurors understand his "state of mind" and "ambitions and frustrations" before the shooting.
'No option to retreat'
But Zimmerman's defense has never raised the "Stand Your Ground" law for one simple reason: with Zimmerman on his back and Trayvon Martin holding him down, he had no option to retreat.
Comments by President Obama, Al Sharpton, and others surely stirred up the racial aspects of the case and appear to have generated many case across the country where blacks attacked whites to avenge Trayvon Martin (e.g.,Gainesville, Florida; Oak Park, Illinois; Mobile, Alabama; Toledo, Ohio; Grand Rapids, Michigan; and Norfolk, Virginia).
It is a case that prosecutors should never have brought, but they let politics influence their decision. Next, it will be the defense's turn to present their case.  But, for all practical purposes, the Zimmerman trial is already over.
What is your opinion regarding this sensational Zimmerman trial? Feel free to share your thoughts with us!
Source: John Lott | Fox News
Image: Huffington Post