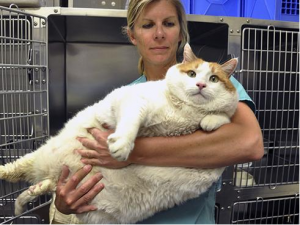 Meow, allegedly the country's heaviest feline,passed away over the weekend after developing respiratory complications.
The nation met the rotund kitty last month after his 87-year-old owner dropped him off at the Santa Fe Animal Shelter, claiming she could no longer care for him – no surprise, given that Meow tipped the scales at 39 pounds. The average cat Meow's "height" weighs 8-12 pounds; an equivalent-sized human would weigh around 600 pounds.
The orange-and-white tabby became a media sensation, appearing on Anderson Cooper's show and elsewhere in an effort to find a new home (and perhaps raise awareness of the country's growing pet-obesity problem). But Meow's high weight put him at risk of life-threatening complications, which sadly took his life before his new caretakers' dietary measures could show a benefit.
And the situation had started to look brighter prior to last Thursday. The shelter examined Meow, ran a battery of tests, and outlined a weight-loss program; then Meow headed to a foster home, where he seemed to be content and exercising. Then the wheezing started, but that didn't alarm Jennifer Steketee, the shelter vet who'd taken charge of Meow's health and diet regime. It's not unusual for obese animals or people to wheeze a bit when active, and Meow might have had seasonal allergies.
The symptoms worsened, though, and towards the end of last week, Meow was brought in for more tests, then admitted to an emergency veterinary hospital. Several specialists came in to consult on the unusual case, but to no avail. Everyone at the shelter, and many fans elsewhere, mourn his passing – but vets hope Meow's legacy is a greater focus on pet health: "Obesity is not something to be ignored."
What is your view regarding pet owners who allow their pets to gain too much weight? Share your thoughts with us!
Source: Yahoo News
Image: International Business Times