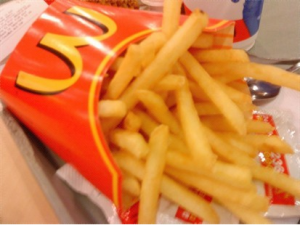 Even food snobs who shun McDonald's have to admit that they serve the mother of all French fries. David Myers, chef/owner of Comme Ca in Los Angeles and Las Vegas, says the key to making a perfect, consistent, McDonald's-style fry is in the advance preparation.
The cut potatoes need to be soaked for at least two hours before cooking which pulls out excess starch and ensures the crispiest product. Also, Myers recommends that, "you have plenty of paper towels, a lined sheet pan, and have your oil ready to go." The beauty of Myers' two-step cooking method is that you can cook your fries ahead of a dinner party and keep them in the fridge until you are ready to finish in hot oil just before serving. This way you get the most delicious, sizzling, salty, golden-brown fries every time.
Perfect French Fries (adapted from David Myers's recipe for "pommes frites")
Ingredients:
6 Idaho russet potatoes
Peanut oil
Sea salt (Myers prefers Sel Gris, a fine light grey French salt)
Method:
Peel and square off potato ends. Cut into 3/8″ batons. Soak for two hours changing water after an hour. Dry thoroughly with paper towels. Heat about an inch of oil (or enough to cover potatoes) in a large, heavy bottomed pot to 290 degrees. Blanch potatoes gently for about two minutes until cooked through but still completely pale. Place on a paper-towel lined sheet pan and cool in the refrigerator to stop cooking process.
Re-heat oil to 370 degrees. Cook fries until golden and crispy, about 3 to 4 minutes. If necessary, agitate gently with a spatula to prevent sticking. Remove from pan and toss with salt to taste (Myers doesn't blot but you can if you want less fat). Serve immediately. Recipe serves 4 to 6.
Do you agree that McDonald's has the best fries ever? Tell us what you think!
Source: Yahoo News
Image: Open Rice