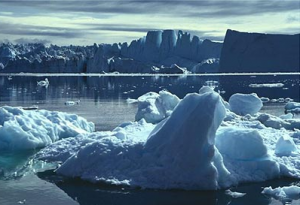 Greenland ice, it seems, can vanish in a flash, with new satellite images showing that over just a few days this month nearly all of the veneer of surface ice atop the island's massive ice sheet had thawed. That's a record for the largest area of surface melt on Greenland in more than 30 years of satellite observations, according to NASA and university scientists.
The images, snapped by three satellites, showed that about 40 percent of the ice sheet had thawed at or near the surface on July 8; just days later, on July 12, images showed a dramatic increase in melting with thawing across 97 percent of the ice sheet surface.
"This was so extraordinary that at first I questioned the result: was this real or was it due to a data error?" said Son Nghiem of NASA's Jet Propulsion Laboratory in Pasadena, Calif., referring to the July 12 images taken by the Indian Space Research Organisation's (ISRO) Oceansat-2 satellite.
Nghiem had reason to be baffled, as this record ice-melt is well above average: About half of Greenland's surface ice tends to melt every summer, with the meltwater at higher elevations quickly refreezing in place and the coastal meltwater either pooling on top of the ice or draining into the sea.  Instruments on two other satellites proved out Nghiem's findings — the Moderate-resolution Imaging Spectroradiometer (MODIS) on NASA's Terra and Aqua satellites.
As for what caused the disappearing ice, University of Georgia, Athens climatologist Thomas Mote suggests it could be a ridge or dome of warm air hovering over Greenland that coincided with the extreme melt. If melted completely, the Greenland ice sheet could contribute 23 feet (7 meters) to global sea-level rise, according to a 2007 report by the Intergovernmental Panel on Climate Change (IPCC), the international body charged with assessing climate change.
Scientists say that man-made global warming, a result of greenhouse gas emissions, is contributing to Greenland ice melt. In fact, past research has suggested that the Greenland ice sheet will vanish in 2,000 years under business-as-usual carbon emissions.
Should we be worried about this sudden Greenland ice sheet melt? How should this problem be addressed?
Image: The Guardian