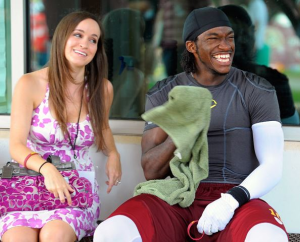 Washington Redskins quarterback Robert Griffin III has a lot on his plate between rehabbing his injured knee and preparing for his wedding. In a kind gesture, many of his fans have given back to the dynamic signal-caller, who almost single-handedly changed the fortunes of the struggling franchise in the nation's capital.
'Appreciative shoutout'
Griffin tweeted an appreciative shoutout to many of his fans, who have pitched in to help buy all the items from his wedding registry at Bed Bath & Beyond. Unfortunately, some responded to the situation with disapproval, which Griffin also addressed:
"Thank you to the Fans who are helping buy ALL the items from our wedding registry at Bed Bath & Beyond … http://say.ly/MLw5Rbg"

"I didn't ask the fans to buy me anything. They found it on their own and decided to get what they could. SMH at all these Debbie downers"
'Genuine gratefulness'
Clearly, the generosity of his fans caught Griffin off guard, and he expressed his genuine gratefulness toward those who graciously assisted him. However, some construed it as a problem. Several who replied to Griffin's initial tweet suggested it wasn't proper for less fortunate fans to give gifts to a man drafted No. 2 overall in the 2012 NFL draft and signed to a four-year, $21 million contract.
Either way, Griffin is only 23 years old, and undertaking marriage, especially at such a young age, is not easy. He handled the circumstances the best he could on his own, but fans thrilled by his electric play and gutsy leadership on the field this past season felt compelled to give back to him. There seems to be nothing wrong with that.
What do you think of the gift gesture of RG3's fans? Do you think it's improper, or do you think it's just an act of genuine admiration?