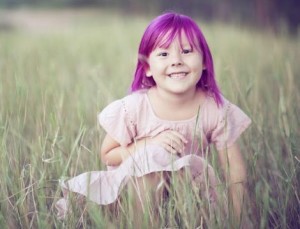 The parents of a 6-year-old transgender girl who has been banned from using the girls' bathroom at her Fountain, Colorado public school have filed a formal discrimination complaint with the aid of a lawyer—and are using the opportunity to speak out publicly in support of their child.
'Girl Scout who loves pink'
The family has filed a complaint with the Colorado Civil Rights Division. It will be investigated, and if either party is unhappy with the outcome, the next step would be a lawsuit.
Kathryn Mathis, mother of first grader Coy, and her husband, Jeremy, a full-time student and disabled veteran, have four other children, including a set of triplets, one of which is Coy. Kathryn explained on "Katie" that Coy, a Girl Scout who loves pink, began gravitating toward girls' toys and clothes by 18 months. She told Shine that Coy has many friends, and that they'd never had any problems with or complaints from any of the other children's parents.
'Violation of Colorado law'
But then, in December, Kathryn and Jeremy got a call from the principal of Eagleside Elementary School, explaining that the school had reversed its position on allowing Coy to use the girls' restroom. Turns out the bathroom ban was also a violation of Colorado law, noted one of the Mathis's lawyers, Michael Silverman, executive director of the Transgender Legal Defense and Education Fund, based in New York City. The Colorado Anti-Discrimination Act prohibits discrimination against transgender students in public schools.
Until the matter is settled, the Mathises have decided to homeschool Coy while lending their fierce support—which is vital, Silverman noted.
Should the school agree instead to re-allow Coy to use the girls' restroom? Or should Coy's family just go ahead with the lawsuit? Team Coy or Team Eagleside? Feel free to share your opinions regarding this issue!
Source: Beth Greenfield, Yahoo Shine
Image: Fox 12 Oregon