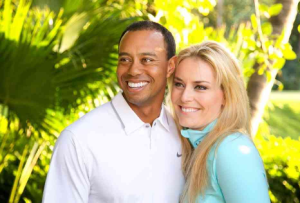 Vogue's Jonathan Van Meter met with the famed alpine skier Lindsey Vonn to discuss things like her continued rehabilitation from a terrifying injury in February and her divorce from Thomas Vonn. Obviously, her relationship with Tiger Woods was a subject that was broached in the interview.
'Long-distance'
Vonn and Woods' story starts as a great many romances do: They met as friends and continued their relationship until something far more serious blossomed. Sure, Woods may have sent a private jetto pick up an injured Vonn, but you get the point. Per the Vogue interview:
"We immediately clicked, you know? It was just one of those things."

For several months, it was a long-distance phone and text friendship. "We talked a lot, corresponded a lot, and he was a good friend who was always there. And then it became more."
'Sworn off marriage'
For the moment, Vonn is just trying to get a handle on golf, a sport that mandates hours of attention—compared to her own sport, which is over in a flash. It certainly seems like the relationship is making both golfer and skier extremely happy, but don't expect any surprise engagements, because Vonn has sworn off marriage.
Van Meter writes, "When I ask her if marriage will ever be in the cards for her again, she grimaces: 'No, thanks! I am definitely not getting married. To anyone.'"
For now, she seems content to merely date Woods, which makes sense considering both of their trying schedules and painful past relationships.
Do you think Linsey Vonn will eventually marry Tiger Woods? Or, should we just take her word for it?
Source: Gabe Zaldivar | Bleacher Report
Image: NPR