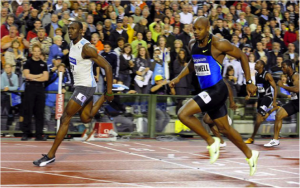 Usain bolt had just enough in the tank to get past fellow Jamaican Asafa Powell at the finish line to win the 100 meter event at the third Diamond League meeting of the season. So far, the season has been dominated by the Americans. The Olympic champion was in his first competitive outing since losing to American Tyson Gay last year. He started slowly in this race but battled back to win with a time of 9.91 seconds.
"I don't think I should be judged on today's performance," said gold medalist Bolt to reporters present. "It was my first race for nine months and I was nervous. I had to get the cobwebs out and the muscles going but it's a good start to the season by winning." he added. His last competition was the loss in DN Galan. It was his 9th victory in 10 races against Powell, who finished with a time of 9.93 seconds. At third was Frenchman Christophe Lemaitre at 10 seconds.
The win was a return to form by Bolt, who had suffered just the second loss of his career against Gay last year. Bolt had said last year that he lost to Gay because he slacked off and that Gay was better prepared and in better condition for the event. The loss was also Bolt's first in the 100 m event. The latest win is sure to boost his resolve and confidence.
In other events, Italian Andrew Howe was cheered on by the home crowd as he won the 200 meter event with a time of 20.31 seconds, ahead of Jamaican Marvin Anderson with 20.49 and Trinidadian Rondell Sorillo who finished with 20.68. At the 800 meter event, American Khadevis Robinson caused an upset, winning with a time of 1:45.09 over South African Mbulaeni Mulaudzi and Kuwaiti Mohammed Khalaf Al Azemi.
In the men's 400 meter event, Christopher Brown of the Bahamas won with a time of 45.16 seconds over Jamaican Jermaine Gonzales with 45.43 seconds, and Belgian Jonathan Borlee with 45.53 seconds. Louis Van Zyl continued his success in the season with a second series win in the 400 meter hurdles. He led from start to finish and won with a time of 47.91 seconds.
The Diamond league takes place between May to September and offers over $8 million in prices over 14 meetings. It is organized by the International Association of Athletics Federation or the IAAF. The next meet will be the , on June 4.