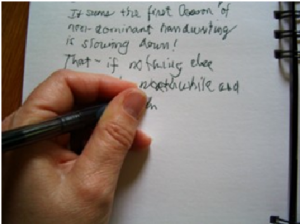 Handedness, as the dominance of one hand over the other is called, provides a window into the way our brains are wired, experts say. And it may help shed light on disorders related to brain development, like dyslexia, schizophrenia and attention deficit hyperactivity disorder, or ADHD, which are more common in left-handed people.
Other recent research suggests that mixed-handedness—using different hands for daily tasks and not having a dominant one—may be even more strongly linked than left-handedness to ADHD and possibly other conditions. What causes people not to favor their right hand is only partly due to genetics—even identical twins, who have 100 percent of the same genes, don't always share handedness.
Babies born to older mothers or at a lower birth weight are more likely to be lefties, for example. And mothers who were exposed to unusually high levels of stress during pregnancy are more likely to give birth to a left-handed child. A review of research, published in 2009 in the journal Neuropsychologia, estimated that about 25 percent of the variability in handedness is due to genetics.
Left-handedness appears to be associated with a greater risk for a number of psychiatric and developmental disorders. Links between left-handedness and dyslexia, ADHD and some mood disorders have also been reported in research studies.
The reasons for this aren't clear. Scientists speculate it could be related to a concept known as brain lateralization. The brain has two halves. Each performs primarily separate, specialized functions, such as language processing, which mainly takes place in the left hemisphere. There is lots of communication between the hemispheres.