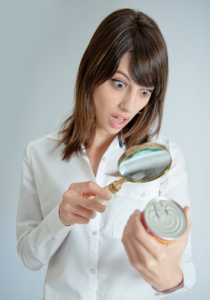 The nutrition label can predict the future size of your pants and health care bills. The Food and Drug Administration has approved more than 3,000 additives, but you don't have to know them all. You just need to be able to parse out the bad stuff. Here are 5 ingredients you never want to see on the nutrition label.
Parabens
These synthetic preservatives are used to inhibit mold and yeast in food. But a study in Food Chemical Toxicology found that daily ingestion decreased sperm and testosterone production in rats, and parabens have been found present in breast cancer tissues.
Partially Hydrogenated Oil
Don't confuse "0 g trans fat" with being trans fat-free. The FDA allows products to claim zero grams of trans fat as long as they have less than half a gram per serving. Considering that two grams is the absolute most you ought to consume in a day, those fractions can quickly add up. If it's anywhere on there, then you're ingesting artery-clogging trans fat.
Sodium Nitrite
Nitrites and nitrates are used to inhibit botulism-causing bacteria and to maintain processed meats' pink hues, which is why the FDA allows their use. Unfortunately, once ingested, nitrite can fuse with amino acids (of which meat is a prime source) to form nitrosamines, powerful carcinogenic compounds.
Caramel Coloring
This additive wouldn't be dangerous if you made it the old-fashioned way—with water and sugar, on top of a stove. But the food industry follows a different recipe: They treat sugar with ammonia, which can produce some nasty carcinogens. A Center for Science in the Public Interest asserted that the high levels of caramel color found in soda account for roughly 15,000 cancers in the U.S. annually.
Food Dyes
Not only do these dyes allow manufacturers to mask the drab colors of heavily processed foods, but certain hues have been linked to more serious ailments. A Journal of Pediatrics study linked Yellow 5 to hyperactivity in children, Canadian researchers found Yellow 6 and Red 40 to be contaminated with known carcinogens, and Red 3 is known to cause tumors.
Have you been checking out the nutrition labels of your groceries lately? How often do you consume foods containing these dangerous ingredients?
Image: Life Extension