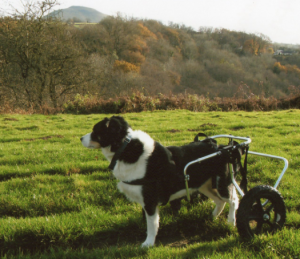 Scientists have reversed paralysis in dogs after injecting them with cells grown from the lining of their nose. The pets had all suffered spinal injuries which prevented them from using their back legs. The Cambridge University team is cautiously optimistic the technique could eventually have a role in the treatment of human patients.
'Considerable improvement'
In the study, funded by the Medical Research Council and published in the neurology journal Brain, the dogs had olfactory ensheathing cells from the lining of their nose removed. These were grown and expanded for several weeks in the laboratory. Of 34 pet dogs on the proof of concept trial, 23 had the cells transplanted into the injury site – the rest were injected with a neutral fluid. Many of the dogs that received the transplant showed considerable improvement and were able to walk on a treadmill with the support of a harness. None of the control group regained use of its back legs.
'Human patients'
The research was a collaboration between the MRC's Regenerative Medicine Centre and Cambridge University's Veterinary School. Professor Robin Franklin, a regeneration biologist at the Wellcome Trust-MRC Stem Cell Institute and report co-author, said:
"We're confident that the technique might be able to restore at least a small amount of movement in human patients with spinal cord injuries but that's a long way from saying they might be able to regain all lost function. '
The researchers say the transplanted cells regenerated nerve fibres across the damaged region of the spinal cord. This enabled the dogs to regain the use of their back legs and coordinate movement with their front limbs. The new nerve connections did not occur over the long distances required to connect the brain to the spinal cord. The MRC scientists say in humans this would be vital for spinal injury patients who had lost sexual function and bowel and bladder control.
Do you find this study promising for spinal injury patients? Tell us what you think of the results of this research!
Source: BBC News
Image: Popsci