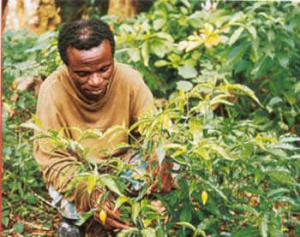 Since the 1960s a disparate group of scientists and former drug addicts have been advocating a radical treatment for addiction – a hallucinogen called ibogaine, derived from an African plant, that in some cases seems to obliterate withdrawal symptoms from heroin, cocaine and alcohol. So why isn't it widely used?
Dr. Anwar Jeewa at the Minds Alive Rehab Centre in Chatsworth, Naidoo, estimates he has treated around 1,000 people with ibogaine but it remains largely unacknowledged by the medical mainstream. The drug, derived from the root of a central African plant called iboga, had been used for centuries by the Bwiti people of Gabon and Cameroon, as part of a tribal initiation ceremony.
As far as scientists understand, ibogaine affects the brain in two distinct ways. The first is metabolic. It creates a protein that blocks receptors in the brain that trigger cravings, stopping the symptoms of withdrawal. With normal detox this process can take months.
Its second effect is much less understood. It seems to inspire a dream-like state that is intensely introspective, allowing addicts to address issues in their life that they use alcohol or drugs to suppress. It only has to be taken once, unlike conventional treatments for heroin addiction such as methadone which is a substitute and addictive itself.
Pharmaceutical companies make money by patenting new chemicals but ibogaine is a naturally occurring substance and is difficult to secure a patent on. It also comes with some risks. Ibogaine slows the heart rate and when administered to rats in very high doses, it has been proved to damage the cerebellum, a part of the brain associated with motor function. Clinicians like Jeewa would like to see the drug licensed but says people need to understand its limits.
Source: BBC News
Image: Ibogaine