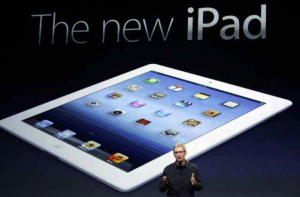 Apple rolled out a high-definition iPad on Wednesday with a faster processor, a better camera and a display screen that promises to be dramatically sharper than the current model, the iPad 2.
The new 9.7-inch display screen will feature a "retina display" of 2047 by 1536 pixels, compared with the current model's 1024 by 768 pixels. To break it down, that's a total of 3.1 million pixels on the display screen.
The new iPad will be available in the United States and 9 other countries March 16 and cost the same as the iPad 2 — from $499 to $829 based on storage capacity and Wi-Fi capacity. Pre-orders were opened at Apple's online store on Wednesday. And the new iPad will be the first to run on 4G wireless networks, a source familiar with the device's specifications told CNN Money on Wednesday. It will have a a 5-megapixel camera, representing a significant leap from the current iPad's so-so lens.
Surprisingly, "the new iPad" was as close to a name as Apple gave the gadget Wednesday. Predictions had bounced back and forth between "iPad 3″ and "iPad HD" before the event. But the announcement ended without an official name being announced.
Whether that means Apple plans to abandon an iPhone-like naming routine (iPhone, iPhone 3G, iPhone 3GS, iPhone 4, iPhone 4S) in favor of occasional upgrades to "the iPad" remains to be seen.
Source: CNN
Image: Dr. Jays