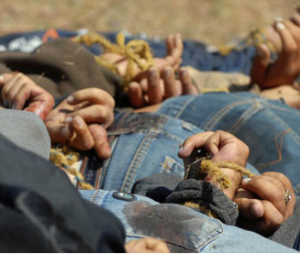 Forty-nine headless, dismembered bodies were found along a stretch of highway in Mexico on Sunday.
The mutilated bodies "scattered in a pool of blood"—some with their hands and feet "hacked off," according to the Associated Press—were discovered by local authorities on the edge of the town of San Juan on a road that connects Monterrey to the Texas border. The bodies were thought to have been dumped there by a drug cartel, authorities said. A welcome sign near the killing field was filled with graffiti with the message, "100% Zeta." Zetas is one of the two largest drug cartels in Mexico. The other is the Sinaloa Cartel.
But the escalating violence between the two cartels has resulted in a recent rash of symbolic slayings. On April 17, according to the AP, mutilated bodies of 14 men were left in a minivan in downtown Nuevo Laredo. On May 5, the bodies of 23 people were found, some hanging from a bridge and others decapitated and dumped near city hall. On May 9, 18 dismembered bodies were discovered outside Guadalajara, Mexico's second-largest city.
Nuevo Laredo and Monterrey are considered Zetas territory, while Guadalajara has been controlled by the Sinaloa Cartel. In September, a Sinaloa drug gang dumped 35 bodies in Veracruz, Mexico. In August, a Zetas attack on a Monterrey casino left 52 dead.
Since 2006, when Mexico's President Felipe Calderon announced a crackdown on cartels, more than 47,500 people have been killed in drug-related violence. Should the Mexican government resort to drastic moves to put an end to these drug wars? Share your opinions with us!
0Source: Yahoo News
Image: The Guardian