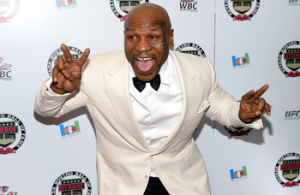 Former heavyweight boxing superstar Mike Tyson opened up about his sobriety and a 30-year beef with Teddy Atlas in an emotional press conference following his debut as a promoter on ESPN Friday Night Fights, according to FightNetwork.com.
'Lying to everybody'
The 47-year-old responded with a lengthy soliloquy that ultimately led him to discuss his sobriety. Tyson's comments regarding his ongoing disagreement with Atlas and his recovery quickly transitioned into an admission about his drug and alcohol abuse when he told media that he had been sober for less than a week:
I haven't drank or took drugs in six days, and for me that's a miracle. I've been lying to everybody else that think I was sober, but I'm not. This is my sixth day. I'm never gonna use again.
'On the verge of dying'
Tyson, who described himself as "a vicious alcoholic on the verge of dying," added that he wants to be forgiven by Atlas and others and hopes he can change his life for the better.
Since retiring from the sport, Tyson has given Hollywood a shot, making several cameo appearances in The Hangover film series. Tyson also stars in his own one-man Broadway show titled Mike Tyson: Undisputed Truth.
Do you think Mike Tyson will be able to make a successful turnaround from being 'a vicious alcoholic'? Feel free to share your thoughts and opinions regarding this issue!
Source: Patrick Clarke | Bleacher Report
Image: SB Nation