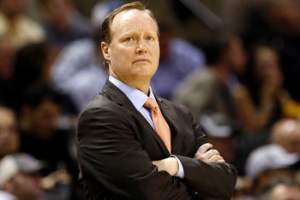 The Atlanta Hawks tabbed former San Antonio Spurs assistant Mike Budenholzer to be their new head coach back in May, but his tenure with the organization has gotten off to a rocky start to say the least. He was arrested for DUI early Thursday morning, according to Zach Klein of WSB-TV in Atlanta.
'Taillight violation'
WSB-TV is reporting that a Georgia State Patrol trooper pulled Budenholzer over for having no taillights. After the trooper smelled alcohol, however, he administered a field sobriety test and ultimately decided to arrest Budenholzer, who reportedly refused to take a breathalyzer test.
According to a spokesperson for the Atlanta City Jail, Budenholzer was charged with DUI as well as a taillight violation, and he was released on $1,524 bond at 3:45 a.m. ET on Thursday morning.
'Under the influence of drugs'
According to MyFoxAtlanta.com, in addition to the aforementioned charges, Budenholzer has been charged with driving under the influence of drugs, driving under the influence of multiple substances, driving under the influence of alcohol and drugs and having an alcohol concentration exceeding 0.08 grams at any time within three hours of driving.
Budenholzer spent 16 years as an assistant with the Spurs under Gregg Popovich, winning four NBA championships during his tenure. Budenholzer has never served as a head coach at the professional level, but he was a highly sought-after candidate this offseason.  It's entirely possible that Budenholzer has already ruined his big break, however.
How will this arrest affect Mike Budenholzer's career as the new head coach of the Atlanta Hawks? Feel free to share your thoughts and opinions with us via the comment box below!
Source: Mike Chiari | Bleacher Report
Image: SB Nation