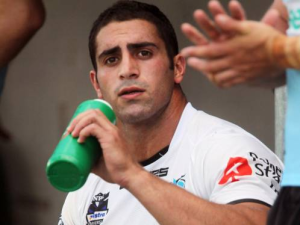 Peptides were blamed for the recent death of an Australian rugby league player and were on the Biogenesis lists linked to the New York Yankees' Alex Rodriguez. Peptides are known to work and be readily available, in the bodybuilding community at least.  Simply put, these drugs could be killers, and expansion of their usage is a serious concern.
'Banned list'
For most in the United States, the first sighting of these kinds of substances came in the documents leaked from Biogenesis, the Miami "anti-aging" clinic alleged to have provided banned performance enhancers to big-name MLB players like A-Rod and Melky Cabrera.
Unlike HGH, which has been around for decades, or drugs like CERA or SARMs that came out of pharmacological testing, the particular peptides in question here are not being used for any approved medical treatments. And no American professional sport has them specified on a banned list (though catch-all language could make them a banned substance). Under these circumstances, any testing on these types of peptides has not been a publicized priority.
'Hard to detect'
Anthony Roberts has been on the leading edge of performance-enhancing drugs for the past decade. As the author of Anabolic Steroids: Ultimate Research Guide, Roberts has his pulse on both the steroid underground and the drugs that are trickling into the mainstream.
Roberts noted that the authorities and governing bodies have noted the presence of the peptides, but that public consciousness of the issue lags. There's a problem with drugs coming into public consciousness. Once these peptides become more familiar, more and more people will try it, just as happened with anabolic steroids and HGH.
Why should peptides be getting everyone's attention? Because they work, because there are signs they are becoming more popular and because anti-doping efforts can't afford to lag too far behind doping efforts. An effective, dangerous substance that's hard to detect? That's a major problem for sports and for those committed to keeping sports drug-free.
How widely used are peptides among athletes? Feel free to comment on this sports issue!
Source: Will Carroll, Bleacher Report
Image: SBS