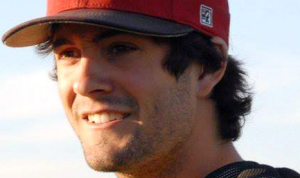 The indiscriminate shooting of Christopher Lane, a 23-year-old Australian who was living his dream of studying in the United States on a baseball scholarship, has repulsed many in his home country and led to calls for Australian tourists to boycott the United States.
'Murder mayhem'
"It is another example of murder mayhem on Main Street," former Australian deputy Prime Minister Tim Fischer told CNN's Piers Morgan. "People thinking of going to the USA for business or tourist trips should think carefully about it given the statistical fact you are 15 times more likely to be shot dead in the USA than in Australia per capita per million people."
Police said Lane was on one of his regular runs through what has been described as the affluent town of Duncan, Oklahoma on Friday about 3 p.m. when a car carrying three teenagers drove up behind him.
'Indiscriminate nature'
"They pulled up behind him and shot him in the back, then sped away," said Capt. Jay Evans of the Duncan Police Department. "It could have been anybody — it was such a random act."
It was the indiscriminate nature of the attack that has shocked many in Australia. Late Wednesday, a Facebook page set up in Lane's honor, R.I.P Christopher Lane, had more than 62,000 followers, many of whom described his murder as senseless and tragic.
On Tuesday, three teenagers appeared in court charged over the attack, which came one day before they were due to return to school.
What is the reason behind the escalating number of senseless shootings in the United States? Feel free to share your thoughts and opinions regarding this issue.
Source: Hillary Whiteman | CNN
Image: ABC News