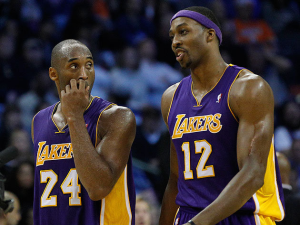 As Dwight Howard's departure from the Los Angeles Lakers moves further into the past, more reasons are surfacing as to why the big man chose to leave Tinseltown. Sources told ESPN's Ramona Shelburne and Marc Stein that a potentially delayed power shift in Lakers nation helped lead Howard to the Houston Rockets:
'Future face of the franchise'
The Lakers, almost from the moment Howard arrived in August 2012, had gone to great lengths to assure the 27-year-old that they saw him as the future face of the franchise and that the torch would be passed from Bryant to him in short order.

But with Bryant saying publicly just a week before free agency that he was thinking of playing at least two or three more seasons, it was hard for Howard to envision when he would assume that role, sources said.
The ESPN report goes on to state that Howard's representatives brought up the possibility of cutting ties with Kobe Bryant in the offseason, saying "Howard's camp at one point asked the Lakers whether they were at least considering releasing Bryant through the league's amnesty provision."
'Cash-strapped'
Howard had envisioned a potential partnership with Chris Paul over the summer, but the cash-strapped Lakers couldn't make that happen without some clever manipulation of their financial books. Those possible moves were either stymied by potential trade partners or overruled by the Lakers themselves.
The possibility of the Lakers shedding Bryant's $30 million-plus salary through the amnesty clause was talked about in the rumor mill shortly after his season came to an abrupt end due to a torn Achilles but never seemed to carry much weight in L.A.'s camp. Howard tried barking up that tree, and in doing so, he helped fuel his exit.
Was signing with the Houston Rockets the right move for Dwight Howard? And what about the Lakers?
Source: Zach Buckley | Bleacher Report