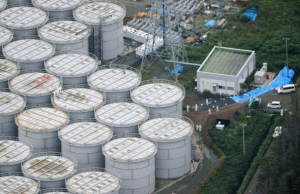 A nuclear expert has told the BBC that he believes the current water leaks at Fukushima are much worse than the authorities have stated.
'A good deal worse'
Mycle Schneider is an independent consultant who has previously advised the French and German governments. He says water is leaking out all over the site and there are no accurate figures for radiation levels. Meanwhile the chairman of Japan's nuclear authority said that he feared there would be further leaks.
The ongoing problems at the Fukushima plant increased in recent days when the Tokyo Electric Power Company (Tepco) admitted that around 300 tonnes of highly radioactive water had leaked from a storage tank on the site. But some nuclear experts are concerned that the problem is a good deal worse than either Tepco or the Japanese government are willing to admit.
'Leaches into the sea'
They are worried about the enormous quantities of water, used to cool the reactor cores, which are now being stored on site. Some 1,000 tanks have been built to hold the water. But these are believed to be at around 85% of their capacity and every day an extra 400 tonnes of water are being added.
Several scientists also raised concerns about the vulnerability of the huge amount of stored water on site to another earthquake. The storage problems are compounded by the ingress of ground water, running down from the surrounding hills. It mixes with radioactive water leaking out of the basements of the reactors and then some of it leaches into the sea, despite the best efforts of Tepco to stem the flow.
Do you think Fukushima's radiation problem is actually worse than we know? In connection to this problem, should Tokyo's Olympic bid be withdrawn?
Source: Matt McGrath | BBC News
Image: The Washington Post