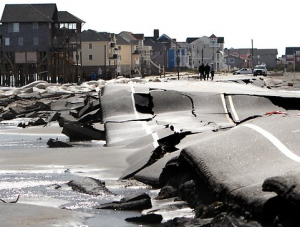 Millions of people from Maine to the Carolinas awoke Tuesday without power, and an eerily quiet New York City was all but closed off by car, train and air as superstorm Sandy steamed inland, still delivering punishing wind and rain. The U.S. death toll climbed to 33, many of the victims killed by falling trees.
'Hardest-hit areas'
At least 7.4 million people across the East were without electricity. Airlines canceled more than 12,000 flights. Lower Manhattan, which includes Wall Street, was among the hardest-hit areas after the storm sent a nearly 14-foot surge of seawater, a record, coursing over its seawalls and highways and into low-lying streets.
Water cascaded into the gaping, unfinished construction pit at the World Trade Center, and the New York Stock Exchange was closed for a second day, the first time that has happened because of weather in more than a century. A huge fire destroyed as many as 100 houses in a flooded beachfront neighborhood in Queens on Tuesday, forcing firefighters to undertake daring rescues. Three people were injured.
'Weakening as it goes'
The death toll climbed rapidly, and included 17 victims in New York State — 10 of them in New York City — along with four dead in Pennsylvania and three in New Jersey. Sandy also killed 69 people in the Caribbean before making its way up the Eastern Seaboard. In New Jersey, a huge swell of water swept over the small town of Moonachie, near the Hackensack River, and authorities struggled to rescue about 800 people, some of them living in a trailer park. And in neighboring Little Ferry, water suddenly started gushing out of storm drains overnight, submerging a road under 4 feet of water and swamping houses. Police and fire officials used boats and trucks to reach the stranded.
Remnants of the hurricane were forecast to head across Pennsylvania before taking another sharp turn into western New York by Wednesday morning. Although weakening as it goes, the storm will continue to bring heavy rain and flooding, said Daniel Brown of the National Hurricane Center in Miami.
Do you think there will ever be another storm as fierce as Sandy? How should people cope with its aftermath?
Image: News.com.au