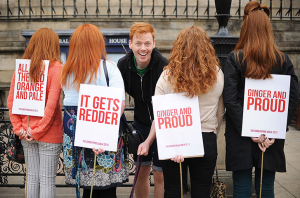 People with red hair have shown their true colours in a march through Edinburgh. It had been billed as the UK's first Ginger Pride Walk and was part of the Edinburgh Festival Fringe.
'Stand up against prejudice'
Marchers gathered outside the Balmoral Hotel from 11:00, with the event being led by Canadian comedian and proud redhead, Shawn Hitchins. He said it was a fun way to stand up against prejudice and those who poke fun at people with ginger hair.
Scotland is said to be home to almost a fifth of the world's redheads.
Speaking ahead of the march, Hitchins said: "Even although it isn't a real word, gingerism exists and bullying exists and you can't deny that kids are being subjected to taunts or being bullied in schools just for having red hair."
'Ginger and proud'
The event has generated a considerable amount of online interest, with Hitchins admitting he had been surprised at the number of ginger websites, blogs and activists.
Slogans prepared for the parade were said to include "Ginger and proud", "For the love of ginger", and "All hail! The red, orange and pale."
Do you have ginger hair? Have you ever been bullied because of the color of your hair?
Source: BBC News
Image: The Guardian