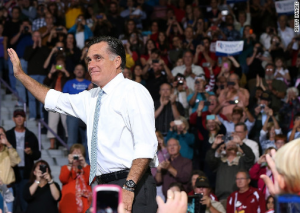 The race for the White House is airtight hours before Election Day. But in the battle of swing-state newspaper endorsements, Mitt Romney appears to be winning — aided in large part by papers that switched from backing Obama in 2008 to supporting the 2012 Republican nominee.
'This election is about jobs'
According to an analysis by Poynter, Romney has bagged a total of 24 swing-state newspaper endorsements, to Obama's 15. Across the country, at least 30 newspapers also flipped from backing Obama in 2008 to backing Romney this year.
They include some major swing-state papers, including the Wisconsin State Journal. In its editorial Sunday, the newspaper called Obama the "more likable and inspiring speaker." However, the editorial said, "this election is about jobs … This is now Obama's economy, even though the GOP shares in the blame for partisan games."
'Flipping'
The State Journal joined the Des Moines Register, Naples Daily News, Reno Gazette-Journal and the Orlando Sentinel, among others, in flipping to back Romney. The New York Daily News also made waves this weekend by endorsing Romney, after having backed Obama in 2008.
According to Poynter, at least three papers flipped from Sen. John McCain in 2008 to Obama this year. They were the San Antonio Express-News, The San Francisco Examiner and the Winston-Salem Journal.  Several other newspapers abstained from endorsing anybody this year after backing Obama four years ago — including the Milwaukee Journal Sentinel, the Palm Beach Post and the Dayton Daily News.
Who do you think is going to win in tomorrow's Elections? Are you pro-Obama or  pro-Romney?
Source: Fox News
Image: CNN Politics