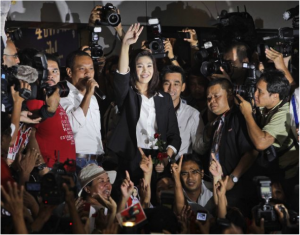 Earlier today, Thailand's vaunted military accepted the electoral victory of the party of former Prime Minister Thaksin Shinawatra. This latest change is seen as a move towards stability in Thailand, which has been plagued by unrest since Shinawatra was ousted from his position in a coup five years ago. The new party, named the Puea Thai Party, is now headed by Thaksin's own younger sister, Yingluck Shinawatra.
After the stunning win, Thailand's military agreed not to intervene or stop Shinawatra from forming the new government. The outgoing minister also mirrored the comments by the Thai military, saying the army accepted the election results. General Prawit Wongsuwan, a former army chief close to military members that were involved in the 2006 coup, said that the army had no intentions this time of attempting another coup.
The Puea Party won a majority of the election, with 264 of the possible 500 seats in parliament. This margin of victory has all but assured Shinawatra as becoming the first female prime minister in Thailand's history. Before the announcement of the win, the public was wary of any possible conflicts that might occur between Shinawatra's supporters and the army. Many of her hardcore supporters had previously clashed with the army in a violent clash last year.
"Winning by a big margin eases the problem of military intervening and makes it easier for them to form a government and implement all the policies," said Kongkiat Opaswongkarn, the chief executive of Asia-Plus Securities. Shinawatra announced that she would be forming a five party coalition, giving her control of 299 seats, or around 60 percent of the parliament. This status gives her a strong foundation on trying to fulfill her election promises.
The 44-year old Yingluck Shinawatra plans to accomplish a long list of programs in the spirit of her brother, Thaksin. She is hoping to these programs could influence the direction and growth of Thailand, recognized as Southeast Asia's second largest economy. Among her most ambitious programs includes an extension on the subway system, a big wage increases in several sectors, and several other giveaways made to boost spending power, especially in Thailand's rural areas.
Thai's stocks jumped four percent at the announcement of Shinawatra's win, as it was globally regarded as a positive step for the country. This will be the first time in 6 years that the country could experience real stability in its government. In the past 6 years, the country was ravaged by a coup, occupation of Bangkok's airports, a blockade of parliament and an assassination attempt.