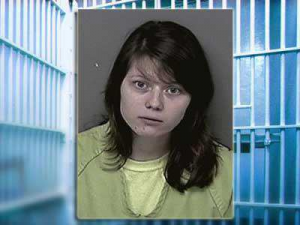 A Missouri teenager who had described the slaying of a young neighbor girl as an "ahmazing" thrill made an emotional apology Wednesday to the girl's family and was sentenced to a potential lifetime in prison.
Moments before her sentence was imposed, 18-year-old Alyssa Bustamante rose from her chair — with shackles linking her ankles and holding her hands to her waist — and turned to face the family of 9-year-old Elizabeth Olten, whom she confessed to killing in October 2009.
She said: "If I could give my life to get her back I would. I'm sorry."
Elizabeth's mother, Patty Preiss, who on the first day of Bustamante's sentencing hearing called her an "evil monster" and declared "I hate her," sat silently, staring forward as Bustamante's finished her apology.
Cole County Circuit Judge Pat Joyce then sentenced Bustamante to the maximum possible sentence for second-degree murder — life in prison with the possibility of parole. She ordered the teenager to serve a consecutive 30-year term for armed criminal action, a charge resulting from her use of a knife to slit the throat and stab Elizabeth after she had strangled her into unconsciousness.
Elizabeth's family declined to comment about the sentencing, as did Bustamante's family. There were no immediate indications that Bustamante planned to appeal the sentence.
Bustamante originally had been charged with first-degree murder but pleaded guilty last month to the lesser charges to avoid a trial and the possibility of spending her life in an adult prison with no chance of release.
Source: Yahoo News
Image: USA Today