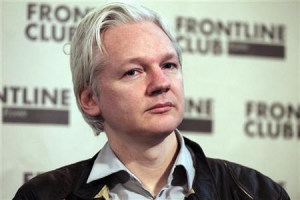 Ecuador has accused the UK of making a "threat" to enter its embassy in London to arrest Wikileaks' Julian Assange. Mr Assange took refuge at the embassy in June to avoid extradition to Sweden, where he faces questioning over assault and rape claims, which he denies.
The Wikileaks website published a mass of leaked diplomatic cables that embarrassed several governments, particularly the US, in 2010, and Mr Assange says he fears Sweden will pass him on to the American authorities.
At a news conference in Quito on Wednesday, Ecuador foreign minister Ricardo  Patino said a letter from the UK government was delivered through a British embassy official: "Today we received from the United Kingdom an express threat, in writing, that they might storm our Embassy in London if we don't hand over Julian Assange," he said. He said such a threat was "improper of a democratic, civilised and rule abiding country".
A Foreign Office spokesman said the UK remained "determined" to fulfill its obligation to extradite Mr Assange. Police have so far been unable to detain Mr Assange for breaching the terms of his bail as he is on diplomatic territory. The law Britain has informed Ecuador it could use in the case is the Diplomatic and Consular Premises Act 1987. It allows the UK to revoke the diplomatic status of an embassy on UK soil, which would potentially allow police to enter the building to arrest Mr Assange.
In 2010, two female ex-Wikileaks volunteers alleged that Mr Assange, an Australian citizen, had attacked them while he was in Stockholm to give a lecture. Mr Assange claims the sex was consensual and the allegations are politically motivated. He says he is concerned he may be sent later to the US to face espionage charges. In June, judges at the UK's Supreme Court dismissed his final appeal against extradition to Sweden.
Should Ecuador just hand over Julian Assange to avoid more conflict? Do you think the Wikileaks founder is guilty of the assault and rape charges he is currently facing?
Source: BBC News
Image: Reuters