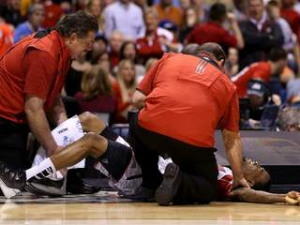 In one of the more gruesome injuries you will see on a basketball court, Louisville guard Kevin Ware severely fractured his leg in Sunday's Elite Eight game against Duke.
'Officially broken his leg'
With just over six minutes remaining in the first half, Ware attempted to defend a three-point shot from Tyler Thornton. He landed awkwardly and his leg appeared to bend the wrong way on the court. According to Pete Thamel of Sports Illustrated, Ware has officially broken his leg and was taken to the hospital.
What makes this even more unfortunate is the reaction from the teammates. After viewing the injury, the Louisville players struggled to keep their composure. In a post-game interview,  coach Rick Pitino explained that the injury will keep him out for a year (via Stewart Mandel of Sports Illustrated):
"Rick Pitino on Ware: "Basically the bone popped out of his skin. It will take a year for him to come back. Same injury as Michael Bush."
'Solid contributor'
The Courier Journal's C.L. Brown reports that the surgery on Ware's leg has been successfully completed and the player will remain in Indianapolis until at least Tuesday, though the release date will obviously depend on how well his recovery goes.
Ware averaged 4.6 points and 1.8 rebounds in 17 minutes per game this season, and was a solid contributor on both sides of the court. He was also coming off his best game of the year with 11 points in the win against Oregon. Louisville will now look to move past not only the physical loss of Ware but also the emotional toll that viewing the injury took on the players. Hopefully, the Cardinals can play their best basketball to honor their injured teammate.
Do you think Kevin Ware will be able to make a full recovery within a year? And will Louisville's performance be seriously maimed with Ware's absence?
Source: Rob Goldberg, Bleacher Report
Image: ABC 15