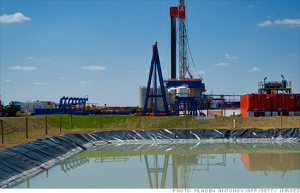 An unlikely champion for U.S. growth under the Obama administration has emerged — a former adviser to a Republican Party presidential candidate and Harvard history professor, Niall Ferguson, who says America could actually be heading toward a new economic "golden age." And it has nothing to do with Washington and everything to do with energy.
'Massive implications'
Ferguson, who is also an author and commentator, believes the production of natural gas and oil from shale formations via a process known as "fracking" — forcing open rocks by injecting fluid into cracks — will be a game changer.
"This is an absolutely huge phenomenon with massive implications for the U.S. economy, and I think most people are still a little bit slow to appreciate just how big this is," he said in Hong Kong this week. "Conceivably it does mean a new golden age."
'Jaw-dropping forecast'
U.S. energy production has been booming in recent years. The International Energy Agency made a jaw-dropping forecast two weeks ago that the U.S. would pass Saudi Arabia as the world's biggest oil producer by the end of this decade — and would achieve near energy independence by the 2030s. That energy boom, asserts Ferguson, will create jobs in the United States. Lots of jobs. The energy sector currently supports 1.7 million American jobs directly or indirectly, according to economic forecaster IHS global Insight. That could rise to 3 million by 2020, it says.
For the recently reelected U.S. president though, the energy boom looks like it could provide a welcome tailwind for his second term. It's something that Ferguson acknowledges — though one suspects through gritted teeth. He concedes the irony that the president will now be the beneficiary of the "good times that lie ahead."
Do you believe that "fracking" could indeed up the U.S. economy enough to surpass Saudi Arabia in oil production? Tell us your opinions on this matter!
Source: CNN
Image: Falck Alford Productions